- Advertisement -
Caron Crochet Granny with Radiant Strips A wonderful crochet piece for you to make in any color you like. It can be for your bed, for your child's bed, or even if you like to sell crochet pieces.
Caron Crochet Granny with Radiant Strips
Caron Crochet Granny with Radiant Strips takes the colors in the shade of blue with light blue and yet shade of a sort of cream so to speak very light brown of course you can even make a pillow that matches in the same color in the case here in the image above you can see that there are pillows matching the colors of this wonderful crochet.
This tone of darker blue with lighter blue with white with light brown you have a perfect combination, but you can use the same system to be able to do then in brown or red color or even in black or gold color As you prefer and that matches the decor of the room or even if you prefer the room.
The fact is that not all crochet pieces are necessarily to stay in that particular place You can adapt to use in other rooms of your house. This adaptation however will vary in size or width and of course how the piece is made as a whole after all is adaptation.
However, if you want to make it for a very wide bed, just increase the size of the pattern by following the guidelines that are in the pdf.
This pattern really draws a lot of attention to me because I like light tones but my husband He loves blue passion obviously this pattern Or recycle the pee after done goes to him Of course I'm doing girls I not only wanted to share with you as I will do.
Even the very threads I am using ah blue mint Royal Blue a Bone and the off white I bought from yarnspirations.com.
Because I did this I do not earn anything to advertise or advertise sites but I love this site passionately yarnspirations.com the materials are very good the threads always bought with good quality Caron and the best always arrived without problems in my region in the case as I am doing a little larger I doubled the amount.
As my bed is very large and I want for all of it and is a gift to my husband so I did the following form bought 8 Blue mint 6 Royal Blue 6 Bone off white. If you pay attention because my bed is very large so it gives a little more work for sure it will take longer but I am sure it will be a fantastic thing not to mention that I am making the pillows to be much more fun.
I hope you have enjoyed this article of this special pattern because it is wonderful with a wonderful color and here is below you can see some remarks especially about other birds and also some notes on the material have fun with this wonderful pattern.
Free Intermediate Afghan Crochet Pattern
Start with the granny square and watch it unfold as you radiate your stripes outward. Crochet this pattern using your pictured colors in Caron Simply Soft. This lustrous blanket brings stylish dimension to any room, so where will you place your handmade creation?
Material Notes
Everything you need to make your new project is included in this kit! Time to get stitching, and don't forget to share your progress!
Sizing Notes
Making the right size is important! Take a look at the dimensions of your new projects and choose the one that's right for you, and always make a gauge swatch to match your tension.
Single Size original
Approx 52" x 63" [132 cm x 160 cm] (from point to point).
Pattern Care
Treat your finished project right! Make sure you read the care directions closely so your hard work ages gracefully.
Machine Wash in Warm Water, Delicate Setting
Tumble Dry, Low Heat, Delicate Cycle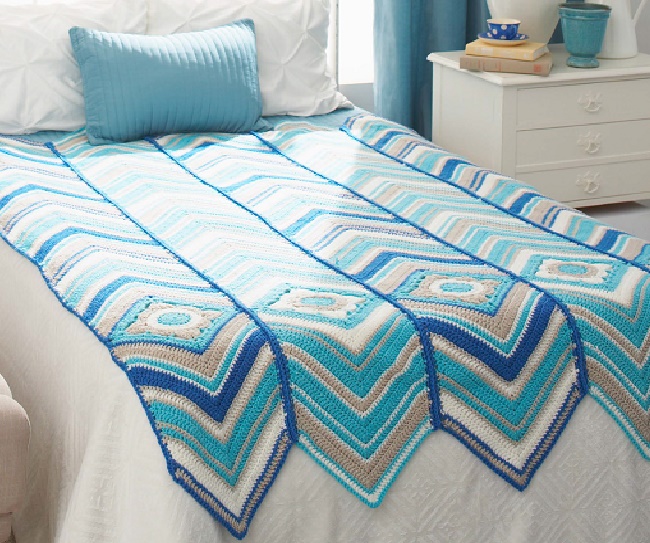 Download direct pattern PDF  or yarnspirations.com Caron Crochet Granny with Radiant Strips and you can do it whenever you want. I suggest doing as soon as possible to make the most of this wonderful crochet work. Do not forget to leave your comment!
- Advertisement -