- Advertisement -
Grandmother's Footsteps Crochet Along is a crochet quilt with wonderful details that can be made in various shapes and colors, but the best of the reasons to do it is for its beauty that seems to be a high relief being that it is not actually. So the tips we can and will give you is very simple: make your choice according to the size and colors you like the most.
Grandmother's Footsteps Crochet Along
This bedspread is beautifully made with love we do not know by whom, this was sent to us by our email, and as you know, we went through some stages of recovery when the same, our site, was hacked. So below are some instructions on how you can make this wonderful crochet quilt. If you wish you can clearly download the STANDARD in PDF to do.
Skill level
Intermediate
MEASUREMENTS
When complete, the blanket will measure
approximately 124 x 180cm/ 48¾ x 70¾in.
MATERIALS
For complete blanket: 9 x 100g (200m) balls of
Hayfield Bonus DK (100% acrylic) in Aran (993); 2
balls in each of Claret (841) and Cupid (944); 1 ball
in each of Emerald (916), Lilac (959), Bright Purple
(828), Navy (971), Primrose (957), Powder Blue
(960) and Mint (956)*. Size 4mm crochet hook.
TENSION
Each square measures approximately 20 x 20cm, using 4mm hook.
- Advertisement -
ABBREVIATIONS
Ch, chain; dc, double crochet; tr, treble crochet;
st(s), stitch(es); slst, slip stitch; chsp, chain space.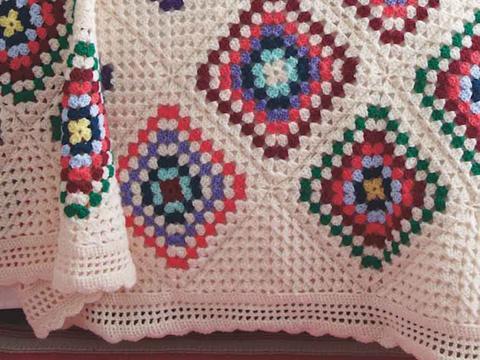 [adinserter block="2″]
UPDATED ON 7/22/2020
We updated this article today. The reason was that one of our readers noticed that part two (02) of the PDF was missing … we apologize for this inconvenience. Now the two PDF's are 100% updated.
TIPS TO END
Now you can downloand that file in PDF more easy to do. But us need a favor, please you can share that article in your social medias, with your friends, family, company and make our post the best article for all what like and love crochet Grandmother's Footsteps Crochet Along,
- Advertisement -