Boho Throw Blanket Free Pattern is a yes and will always be a different pattern, beautiful and bold when we talk about blanket and clear colors that can be the difference between modern beauty and classic crochet blankets.
Boho Throw Blanket Free Pattern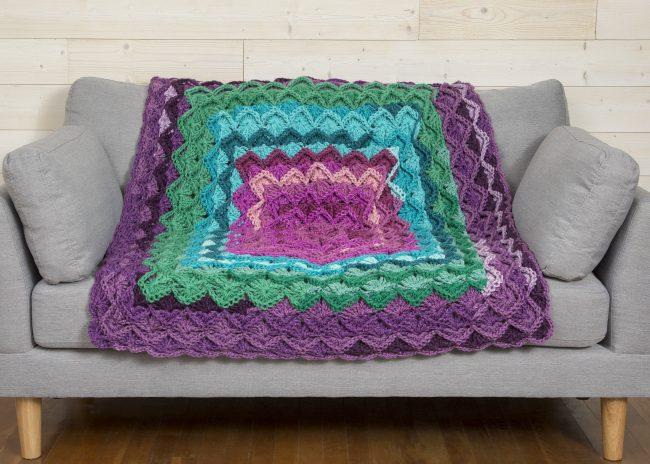 No different than we always find crochet blankets are responsible in 100% of the houses that use them for heating on nights or cold days.
It is also a classic in the United States, Europe and Brazil when the weather is much colder than normal. The models, colors and dots are also characteristic of the place and the region where the person lives.
Boho Throw Blanket Free Patterns is also inspiring because we can see these beautiful models and colors in some Mexican, Brazilian and HollyWood movies. Movies like TopGun can be seen for a few seconds on the sofa of a house in the movie.
In Mexican and Brazilian soap operas it is common to see works in crochet, cross stitch and of course knitting. Do you also like knitting and embroidery? This Patterns you can see here in PREMIER website.
Well next week we will start here a series of different cross-stitch and hand sewing embroideries. Knitting will also be our "menu" of items to come.
Now below you can see a brief summary of our Boho Throw Blanket Free Patterns for today. See how it is:
Skill Level: Easy
Finished Measurements: 50″ x 50″
Materials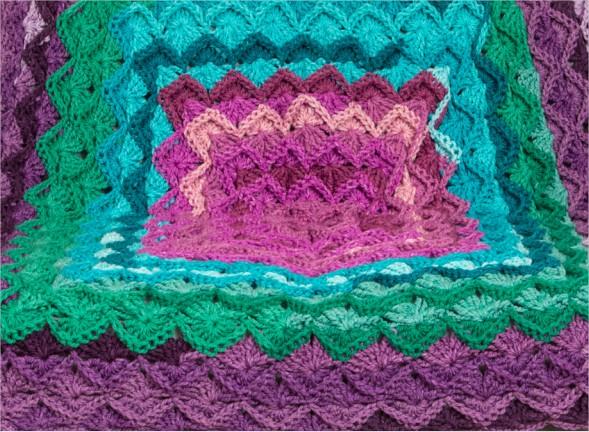 Used lines:
Premier Serenity Chunky Big® Ombre Yarn
#1075-08 Dahlia – 1 ball
#1075-01 Malibu – 1 ball
#1075-03 Wintergreen – 1 ball
#1075-10 Orchid – 2 balls
You will also need:
Hook: US Size M/13 (9 mm) crochet hook or size needed to obtain gauge
Notions: Tapestry needle
Gauge: Rnds 1-3 = 7″ across
Stitch Guide
Partial tr: Yo twice, insert hk in st or sp indicated and pull up a lp, [yo and pull through 2 lps on hk] twice.
Partial BPtr: Yo twice, insert hk around post of indicated st from back to front to back and pull up a lp, [yo and pull through 2 lps on hk] twice.
Bptr (back post tr crochet): Yo twice, insert hook from back to front to back around the post of the st and draw yarn through, [yo and draw through 2 loops on hook] 3 times.
Stripe Sequence: 1 ball Dahlia, 1 ball Malibu, 1 ball Wintergreen, 2 balls Orchid.
Pattern Notes
Worked in one-piece from the center out. Each 2-row pair adds a new ring of circles. Colors are changed at the end of the ball, regardless of where you are in the round. This mimics the way the shades change from one to the next within each ball.
FREE PATTERN: PDF
We hope you enjoyed this article and leave your comment below so we can find out what you thought! ANSWER: What kind of pattern do you like the most? Leave your comment below!