- Advertisement -
Corona Shawl Free Pattern was not our initial search, honestly I wasn't even looking for shawl. I was looking for a pattern for kids because I wanted to do something different for my son and to my surprise I ended up finding this shawl wonderful. And I'll be honest… I have some shawl that my grandmother made for me… but this one… is wonderful…
Corona Shawl Free Pattern
Corona Shawl had her Designed by Universal Yarn Design Team an idea that needs to be shared and here you can download the free PDF and of course we recommend you access universalyarn.com to see several other products that girls are wonderful.
Talking about this shawl is interesting the details that the composition is so simple that they make it so complex and well formulated when it falls into the body… well I imagine that this Corona Shawl in my body will look beautiful although after this quarantine I'm cute hahahah but it's true…
The colors I love this rose almost arriving in a wine tonality. I'll make mine with two colors I want the closed part in red and the open pa
- Advertisement -
rts in black. When I'm done I'll post a picture here on our website or in our group.
Finished Measurements
Width along top edge: 46″
Depth in Center: 23″
Materials
Fibra Natura Flax Lace (100% linen; 547 yds/100g)
• 103 Potent Berry – 1 hank
Hook: US Size C-2 (2.75 mm)
Notions: Tapestry needle
Gauge
20 dc x 10 rows = 4″
Save time, check your gauge.
Patterns Notes
This shawl is worked from the top down.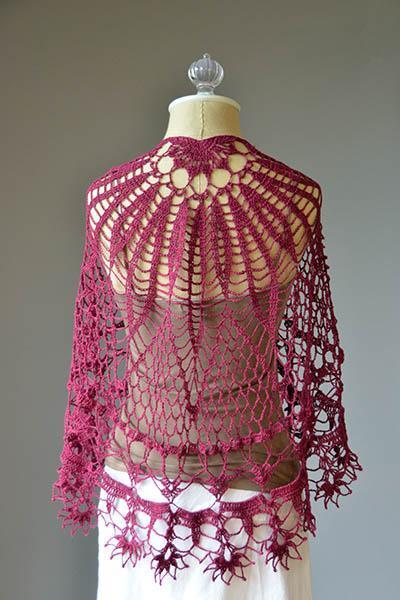 Errata
03.20.2020 There was a typo in Row 2 of the pattern. It has been revised to read: Row 2: Ch 3 (counts as dc), dc in first dc, 2 dc in next 8 sc, turn – 18 dc.
We'll bring you other shawls. Even after this one I learned a lesson… that what I don't like very much I came to love in the hills.
FREE PATTERN: PDF
And if you feel like I admire beautiful works like this sincerely leave your comment below and we will share this article so that more people can see and access beautiful materials like this.
- Advertisement -