- Advertisement -
Sunset Orchid Shawl 2020 é uma maravilhoso trabalho feito pela Ellinor Widéen Frostvirka onde ela escolheu perfeitamente as cores que poderiam casar nessa linda peça de crochê, que por sinal fez um degradê fantástico.
Mesmo que você seja experiente, fazer uma peça de crochê como essa, nas cores como foi feito passa a ser um desafio muito gostoso de fazer. Assim você deve entender que seguir os passos a passos irá deixar sua peça de crochet ainda mais fácil de fazer. Veja o que a nossa Ellinor disse em seu blog: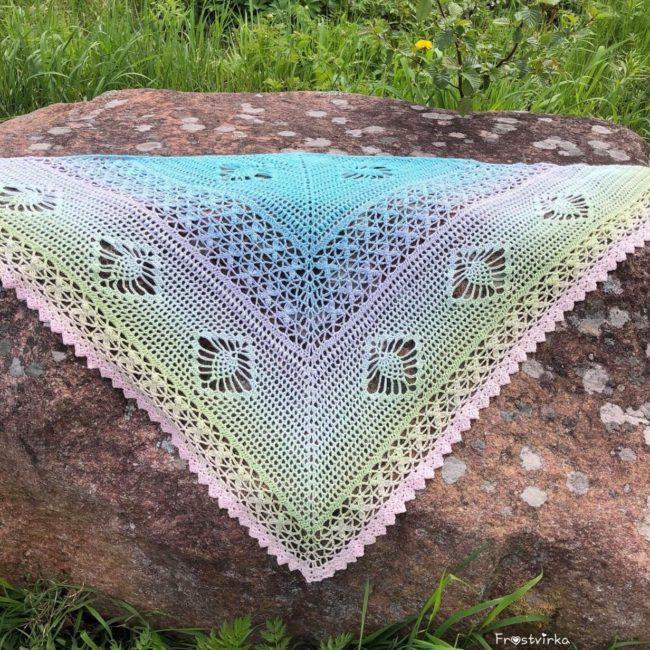 Sunset Orchid Shawl 2020 design by Ellinor Widéen Frostvirka
Sometimes you get an idea for a new design, but not all ideas are as you imagined and so you pull up all the yarn and start something new instead.
But this time, my shawl idea actually became just as I had imagined and it is a wonderful feeling. The pattern is varied so that something happens on every lap and I like that.
It makes the crocheting itself more fun 🙂 To give the design a name I always find difficult, but this one was eventually named Sunset Orchids.
- Advertisement -
The shawl in the picture is made of barely a new Scheepjes Whirl color 767 from Favoritgarner. A lovely blend of light pastels.
The size of the shawl in that yarn will be about 143 cm at the top and 76 cm above the "spine". I used crochet hook 3.5 for my shawl.
[adinserter block="2″]
Katia Bombay from Favorit yarns also fits nicely in making the shawl. I made my first sample of the design in that yarn and then I used color in 2011.
Det är den sjalen ni ser på bilden nedanför. Det går åt ca 4 nystan av det garnet.
It is very rare that a crochet design I have in my head comes out exactly the way I have planned. It usually takes a lot of frogging, frustration and rethinking before it actually becomes something at all.
SEE frostvirka.com –

SOURCE OF THIS ARTICLE
This time though, it actually came out almost exactly the way I had planned it in my head. I named it Sunset Orchids and I hope you will like it as much as I do.
[adinserter block="2″]
The original is made in Scheepjes Whirl colour 767, but in the pdf-pattern you can also find alternative yarn. The size is approximately 143 cm wide and 74 cm from the neck and down. Get you donwload now and do!
DOWNLOAD PATTERN: FREE PDF CROCHET
You can access Elline's blog now and see more wonderful models made by her, so we ask you to share this article, leave your comment, have fun doing your crochet yet, do your best doing your job
- Advertisement -